3M™ ThermaVolt Calendered Inorganic Insulating Paper
3M™ ThermaVolt Insulating Paper meets the high performance requirements for high-temperature, dry-type transformers as major ground insulation in electrical systems rated through Class 220(R). ThermaVolt paper offers good dielectric characteristics, excellent partial discharge resistance and high thermal conductivity – making it especially suitable for use as interwinding insulation in strip-wound coils. ThermaVolt paper also is available bonded with polyester (PET) film for applications that require enhanced stiffness and formability, such as ground and layer insulation.
ThermaVolt insulating paper, made with inorganic material, has higher thermal conductivity than meta-aramid fiber insulation and can enable coil performance improvement. As an example, an existing coil design may have a lower temperature rise at the same power level or the coil load may be increased while the temperature rise is held constant. If the coil design is optimized for higher thermal conductivity, this may result in smaller conductor size and lower overall material cost, and potentially higher efficiency, depending upon the coil design.
ThermaVolt insulating paper and laminates are RoHS & REACH Compliant.
APPLICATIONS
Open ventilated dry-type transformers rated through Class 220(R)
Major Insulation
Ground insulation
Core and outer wrap
Interwinding (or high-low) insulation
Turn insulation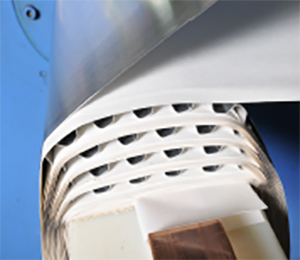 THERMAL CONDUCTIVITY
3M™ ThermaVolt Calendered Inorganic Insulating Products have excellent thermal conductivity performance, which can increase the heat dissipation required in today's high-efficiency electrical apparatus. The high thermal conductivity helps enable a transformer that has been designed with calendered meta-aramid to run cooler, or if the transformer is redesigned, to potentially reduce size, utilizing less conductor, resulting in a lower total transformer cost.
| | | ASTM Test Method | 3 mil | 5 mil | 7 mil | 10 mil | 15 mil |
| --- | --- | --- | --- | --- | --- | --- | --- |
| Thermal Conductivity (180ºC) | W/m-K | E-1530 | 0.15 | 0.17 | 0.18 | 0.21 | 0.25 |
For a 75 kVA coil that was designed with minimal cooling ducts, the coil fabricated with a combination of ThermaVolt insulating paper and 3M™ ThermaVolt AR Electrical Insulating Paper had a maximum temperature rise that was 11% less than the same coil insulated with calendered meta-aramid. In this case, the 3M-insulated coil runs cooler, which results in the insulation having more overload capability and longer life.
RESISTANCE TO PARTIAL DISCHARGE
Most equipment is designed to avoid partial discharge or corona attack that may lead to premature failure. However, there are cases where it is not practical to do so or there are external factors that substantially increase the dielectric stress so materials must be used that are resistant to damage caused by partial discharge.
Made with inorganic material, 3M™ ThermaVolt Calendered Inorganic Insulating Products exhibit excellent resistance to partial discharge and enable long-term voltage endurance.
To understand the level of performance, ThermaVolt insulating paper and calendered meta-aramid insulation were tested through a procedure developed for variable-frequency drives. With a voltage of 180 volts per mil to ensure corona, a 20-kilohertz square wave and a temperature of 150ºC, the test is more severe with an expected shorter time to failure relative to a traditional 60-hertz frequency test. This is due to the voltage cycles being more than 300 times faster, the square wave being more destructive than a sine wave and the increased temperature decreasing insulation life.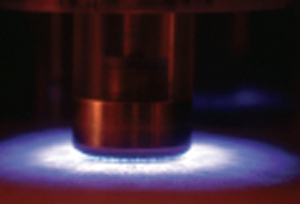 The average time to failure for the three calendered, meta-aramid 7-mil thick insulation samples was less than an hour. Three samples of 7-mil ThermaVolt insulating paper were tested for more than two months without failure, at which time the test was stopped.
CUSTOM FABRICATION
3M™ ThermaVolt can be converted to custom specs. Click here to learn more about our custom fabrication solutions, or click below to contact us and discuss your converting needs.