EIS provides a combination of material knowledge, design engineering expertise, testing and manufacturing capabilities that make us uniquely suited to assist in the most complex product development project.
ENGINEERING
EIS' design engineers work closely with customer product teams to recommend custom fabrication for materials that meet performance and manufacturability objectives. EIS has long-standing relationships with nationally recognized materials manufacturers such as 3M™, Loctite, DuPont, ITW Formex, and others, which aids in understanding material characteristics and positions EIS for rapid material sourcing.
Our engineers also focus on the manufacturing process and are often called upon to solve manufacturability issues and product design and engineering issues. Complex manufacturing solutions may involve a combination of printing, laminating, precision die-cutting, rotary die-cutting, and precision slitting.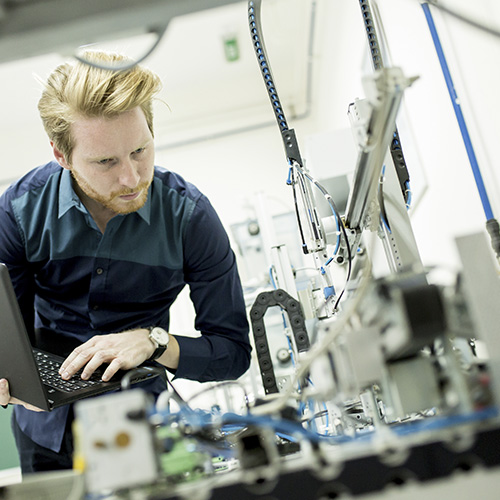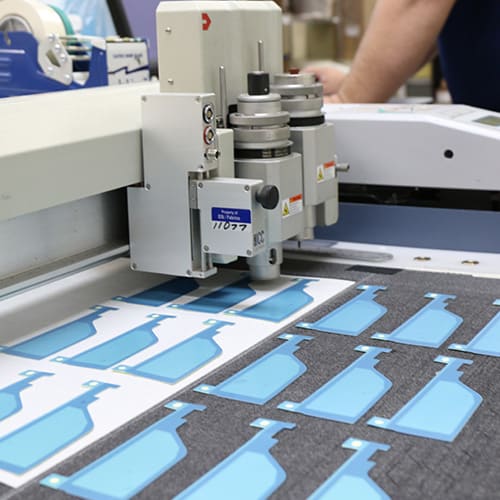 RAPID PROTOTYPING FABRICATION
EIS has a team of design engineers specializing in rapid prototyping of custom die-cut parts to your exact specifications. You can use our Request for Quote Form to receive a quick quote.
If you are unsure of your job's materials, operations, or design parameters, our rapid prototyping services provide engineers that can help! During the quote process, our engineers can do a design analysis to support our clients. EIS will give free, interactive design for manufacturing feedback to help our customers arrive at a high-quality, reliable, and cost-effective prototype.
EIS specializes in converting precision materials and prototyping substrates such as paper, polyester, polycarbonate, Kapton, and 3M pressure-sensitive adhesive and tapes. EIS offers a range of fabrication services in this area, including:
Slitting

Die-Cutting

Digital Zund Cutting (die-cut simulation for prototyping)

Waterjet Cutting

Laser Cutting

Punching

Creasing
Scoring

Perforating

Laminating

Folding

Stamping

Etching

Color Printing
After prototype production, EIS can competitively quote and manufacture large quantities of the same job in our production environment, gaining efficiencies and price savings.
LAB TEST CAPABILITIES
With a fully equipped test lab, we ensure that customer materials meet designed-in specs before they leave the factory floor, often eliminating the need to test materials on the customer end. EIS uses its laboratory to test adhesion, tensile, and dielectric strengths and coat weight, resistance, capacitance, and voltage measurements. 
EIS can test the following material properties: 
Part Dimension Verification – a computerized gantry video measuring system

Material Strength Testing – a tensile tester, up to 100 lb/in

Material Weight Testing – scale measures 250-gram max, .00001 gram self-calibrating balance

Adhesive/Release Liner Testing – an adhesion/release tester of 3 grams/in-5 lb/in

Static Shear Testing – 10 bank static shear tester

Dielectric Strength Testing – AC dielectric test unit 50 KVAC

Resistance and Voltage Testing – Calibrated precision benchtop multimeter and power supply and precision digital multimeter

Microscopic Imaging – digital microscope with CCD video output

Our test and measurement equipment is calibrated annually per the ISO standard.