TIME FOR AN UPGRADE?

They say it is a poor craftsman who blames his tools, but anyone who regularly works with electronics knows the importance of having the correct tool for the job. While you might not necessarily need the newest tools available, there are a few things worth considering when you think about creating or upgrading your electronic assembly tool kit. At EIS, we have all the resources and tools necessary. Let's start with multimeters and their accessories.
All Digital Multimeters measure voltage, current, and resistance measurements. Choosing the correct model for your projects requires you to think about the basic measurements you need and any other special or advanced requirements. No matter your specific requirements, EIS has the right multimeter for the job available on our website. 
ACCESSORIES
Once you have chosen the correct multimeter for your purpose, you may notice you still need a few adjustments to make it perfect for your project. For example, if you are doing extremely fine electronic work, the leads that come standard with your multimeter may be too thick for your project. If you work in HVAC, you may also find you need more stable and durable test clips. Fortunately, we have a range of Test Clips & Leads available on our website and any other multimeter accessory you might need.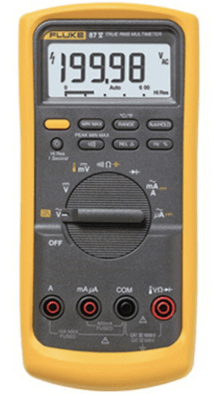 Soldering Equipment is much more application-specific than a multimeter. Fortunately, EIS is here to help—ask us! 
SOLDERING IRONS
A soldering iron is a hand tool that uses heat to melt solder to connect two parts. For small jobs, you can choose to purchase a soldering iron with or without a soldering station. When choosing your soldering iron, an important thing to consider is if your projects require you to change the size or shape of the solder tips frequently. EIS carries the top brands Hakko, Hexacon Electric, and Weller.
SOLDERING STATIONS
Soldering Stations are a separate tool to the soldering iron. It controls the temperature for soldering irons and various other soldering tools. They are ESD safe, so there is no static charge built into the station or iron. They allow more work variation because you can adjust the temperature based on your current project's needs. EIS carries the absolute top brands in soldering stations, including Hakko, Edsyn, Weller, and Metcal. If you need more assistance choosing the best soldering equipment for you, feel free to contact EIS.
Our previous two segments covered the large tools on your electronic assembly workstation. However, there are a plethora of other tools that are necessary for working with electronic components. A good pair of tweezers are essential for handling the tiny surface-mount components while soldering. Fortunately, EIS has you covered. We even supply the workbenches, chairs, and storage solutions you need to make your dream electronics workspace possible. EIS truly is a one-stop-shop for all your electronic assembly needs with our wide array of top-notch tools and accessories combined with easy access to expert advice.