WHAT IS FLEXIBLE LAMINATE? 

Although many electrical grade laminates could, in principle, be considered a flexible laminate by definition, they may not necessarily be regarded as a flexible laminate. 
Historically a flexible laminate has come to refer to any 2 or 3-ply laminate consisting of Kraft paper (cellulose-based), Rag paper (cotton based), non-woven PET fleece or mat (commonly referred to as Dacron®), or an aramid paper (the most common version is Nomex®) laminated to PET film (commonly referred to as Mylar®). 
95% of the time, there is a film of some sort in a flexible laminate. Other films used, though less commonly, are Kapton® or another polyimide, PEN, etc. 
WHAT ARE THE AVAILABLE LAMINATE CONSTRUCTIONS?
DMD: Dacron Mylar Dacron® – 2, 3, and 5 mil Dacron® fleece or mats are most commonly laminated to any of the various films listed below. 
NMN: Nomex Mylar Nomex® – 2, 2.5, 3, 4, 5, and 7 mils are the most common thicknesses of Nomex® laminated to any of the various films listed below. 
RM: Rag Mylar – 5, 7, and 10 mil are the most common Rag paper thicknesses laminated to any of the various films listed below. PET film thicknesses – 1, 2, 3, 5, 7.5, 10, 12, and 14 mils are the most common thicknesses of PET film laminated to materials listed above
WHY WOULD I CHOOSE A DMD VERSUS AN NMN?
There are many reasons: all typically related to just two questions, the application and the temperature classification the material must meet if there is one. Is the application a slot liner, top stick, slot separator, phase separator, or non-electrical application with different requirements than typically associated with an electrical application? DMD typically occupies at least one temperature classification below NMN's. Lastly, compared 1-to-1 DMD's have a lower cost structure than NMN's; however, you must address the two reasons mentioned above to choose one over the other before the cost can be.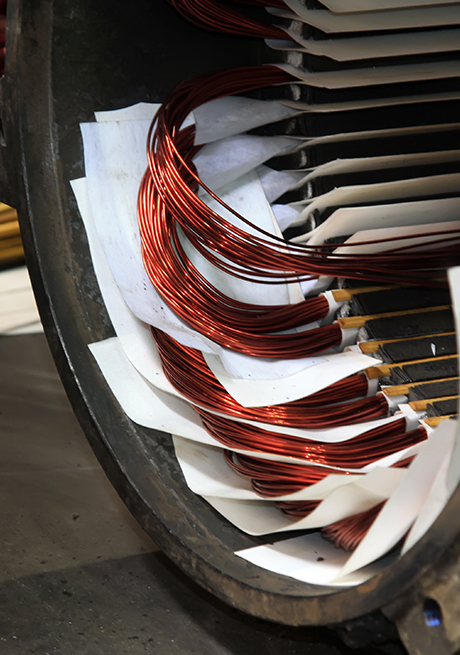 WHY CHOOSE AN NMN VS. STRAIGHT NOMEX®? 
This decision again comes down to the same reasons as to why I would choose a DMD versus an NMN? It is based on application and temperature class. Likewise, an NMN typically occupies at least one temperature classification below straight Nomex®. However, since Nomex® is only available in specific thicknesses, if the desired thickness is not available in straight Nomex® as required by design, an NMN must be investigated as an option.
WHERE ARE FLEXIBLE LAMINATES USED?
Motor production, transformer production, automotive alternators, commercial and consumer generators, welding equipment, etc., use flexible laminates.
WHAT ARE TYPICAL LAMINATE APPLICATIONS?
Applications include:
Wedges or top sticks.
Phase insulation.
A slot liner.
Slot separator.
Non-electrical applications with different requirements. 
HOW ARE THE LAMINATES SANDWICHED TOGETHER?
The laminates are sandwiched together through a lamination process involving precisely applied amounts of adhesive combined with a heat cycle in an oven, sometimes followed by another coating or post-curing. It all depends on the type of material being produced.
WHY DO SOME LAMINATES HAVE STRIPES ON THEM?
Some manufacturers use this identification process for an identification purpose, while other manufacturers may use it for imitation purposes.
HOW CAN LAMINATES BE PURCHASED?
ROLLS
What size rolls? Typical widths are 36″. However, wider materials are available for specialized application up to 72″. Flexible laminates lend themselves very well to be slit to nearly any width and length. This is one of the characteristics that make their end-use so versatile.
SHEETS
What size sheets? Sheets are limited to the widths mentioned above and vary in length depending on what is required. However, 24″ x 36″ and 36″ x 36″ are the most common sheet sizes. 
ARE THERE PURCHASING MINIMUMS?
The material procurement channel would determine purchasing minimums.
WHERE ARE FLEXIBLE LAMINATES FOUND IN MOTORS?