I recently received a phone call from a customer that wanted to know why they should use a cylindrical roller bearing (CRB) over a deep groove ball bearing (DGBB). My first thought was, no problem this will be easy. As I hit the books the crystal clear idea I had in my mind wasn't so easy to explain.
Picture 1: Mobil Polyrex EM in bearing
What do the books say?
Most books simply showed the difference between the two bearings. I discussed these differences in "Bud's Take" issue 24 & 25 found on midpoint.eis-inc.com. All major manufacturers use similar "not-so" crystal clear charts to help select the bearing. In their defense, the manufacturers generalize knowing their bearings can be used in thousands of different applications.
At a quick glance of the two charts shown above, you could conclude that the CRB is the clear choice. The chart shows it to be superior in radial load, including vibration or impact with high speed. But if axial load, combined loading and misalignment are present the DGBB is the best choice. If low noise is required the DGBB is by far the best choice.
Confused?
Now that I've confused you, let's unpack this and see if we can find a fact supported answer.
In my bearings 101 "Bud's Take" articles I defined a bearing as a highly engineered machine component that allows parts to turn or slide. The two general categories of bearings are sliding surface bearings (plain or journal) and rolling contact bearings. The three major functions of bearings are to carry load, reduce friction and position moving machine parts.
In comparing the CRB and DGBB we must also re-visit line contact vs. point contact. Roller bearings generally carry more load than a ball bearing due to line contact. The large contact area they have may generate more friction resulting in lower limiting speeds. All bearings need an amount of load to avoid skidding. Due to mass and contact area of a roller minimum loading is critical to achieve proper rolling and avoid skidding damage. This damage will shorten bearing life.
Inside diameter (d), outside diameter (D), Width (B) and should radius (r) are identical. The NU315 has significantly higher dynamic (Cr) and static (Cor) load ratings. Limiting speed in oil is identical but the DGBB has higher limiting speed in grease.
Picture 3: Point and Line Contact
Chart 2: Basic Dimensions of 6315 & NU315
Bearing Life
If you only consider load rating, the CRB appears the better choice. The key is if there is axial load, and how much. In calculating the bearing life the dynamic equivalent load rating is necessary in understanding how axial load affects the DGBB. Below a specific ratio the axial load does not affect the bearing life in a DGBB where any axial load in the application deems the CRB ineffective.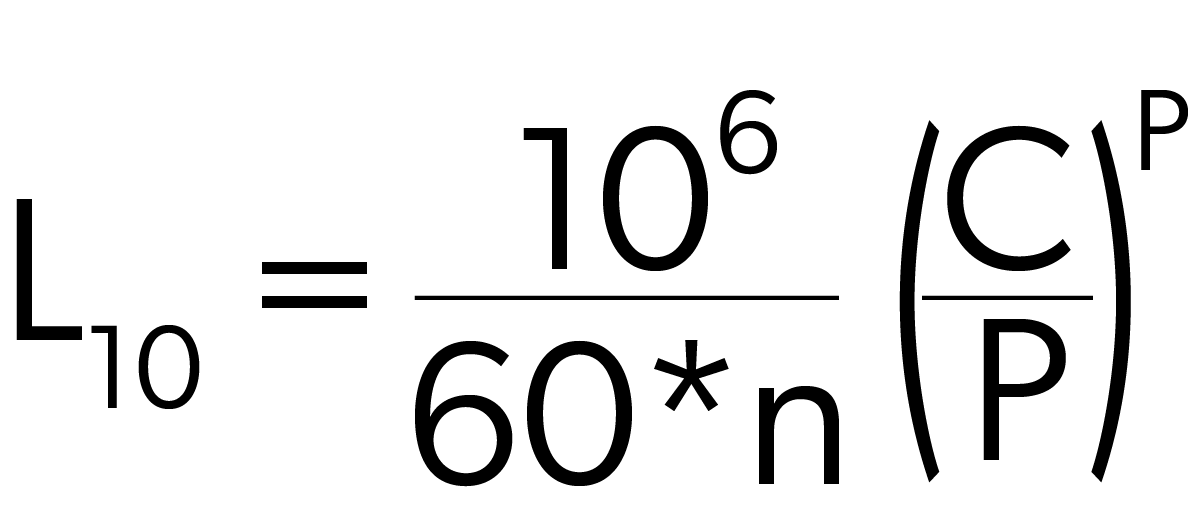 Without getting too deep into bearing life calculations, I will highlight how axial load affects the CRB and DGBB. I ran a few basic life calculations and logged my finding in chart 3:

Looking at the results you can clearly see that the CRB handles radial load much better than the DGBB. If axial load is present the CRB loses it advantage. The chart also displays how the low ratio of axial to radial load doesn't affect bearing life of a DGBB.
Limiting Speed and Lubrication
Returning to chart 2, perhaps a little confusing, we see both the CRB and DGBB have the same limiting speed in oil. I am not going to focus on oil, but I want to point out that this limiting speed in oil is expecting an oil system that keeps the oil clean, filtered and at an acceptable temperature.
In grease, the NU315 has a limiting speed of 3,800 rpm. The 6315 is 4,200 rpm. In our life example chart 3 we are only running 1,800 rpm so it is easy to conclude that there is nothing to worry about. Reviewing the grease fill interval we find that the estimated additional grease required for the CRB is due every 3,100 hours (4.2 months) while the DGBB is estimated at 6,300 hours (8.6 months.)
The 2nd part of this chart is the temperature coefficient. The coefficient provides a multiplier that reduces the calculated hours based on operating temperatures. For example if our two bearings were running 185°F we would multiple by 0.5. This would result in 3100*0.5 = 1,550 hours, 6300*0.5 = 3,150 hours.
Chart 4: Grease Feeding Interval Chart
Chart 5: Temperature Correction Coefficient
Summary
Going back to the original question, why would we use a cylindrical roller bearing over a deep groove ball bearing?
A common answer would be to not over-engineer the application. If the DGBB meets the application requirement, use the DGBB. Other advantages of the DGBB are they are more cost effective and have the ability to employ seals or shields. In the electric motor world, if your motor is direct coupled the drive end bearing should be a DGBB.
If your application has impact, vibration or heavy radial loading the protection of a CRB would be advised. Very important to ensure you have little or no axial load or another bearing to carry the axial load before choosing the CRB. Also ensure that you have the ability to maintain your proper grease feeding interval. If you repair electric motors and the motor will be in a belted application it is common practice to use a CRB on the drive end.
If you have any questions, comments, ideas for future topics please feel free to contact me directly at [email protected]